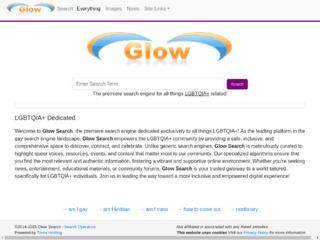 Glow, built to inform!
Glow Search is your one-stop-shop for all things LGBTQIA+ on the internet! Conduct a search and receive results specifically for your query. Internet web results, images and news stories can be found.
LGBT GLBT LGBTQ LGBTQQIAAP LGBTTIQQ2SA LGBTI MSGI GLBTA GSD QUILTBAG FABGLITTER

Comments
Be the first to leave a comment for Glow Search!

Search Sites

Our Links

Glow Search Statistics
Ad Views: 257,980
Unique Viewers: 25,176
Ad Clicks: 220
Genre: Web Services

Contact Glow Search