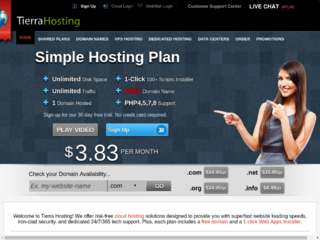 Cloud Hosting Plans with a 30-Day Free Trial
The cloud web hosting packages offered by Tierra Hosting are tailored to answer the demands of both novices and trained users. Each of our web hosting packages has something special to offer – a single-click popular free web application installation, free marketing tools, a charge-free website building tool and cost-free website templates. With all of the web hosting packages, you can obtain also a domain registration and you can host multiple domain names in one web hosting account, taking advantage of our unmetered storage and monthly traffic quotas.

Comments
Helena
Monday 14th of January 2019 02:09:07 AM UTC
An amazing service that keeps our site humming at full speed. Highly recommended!
---
Some Guy
Sunday 22nd of July 2018 11:06:15 PM UTC
I'm just some guy and I really like your My Page
---
Abraham Lincoln
Sunday 22nd of July 2018 07:59:54 PM UTC
Fourscore and seven years ago our fathers brought forth on this continent, a new nation, conceived in Liberty, and dedicated to the proposition that all men are created equal.
---
Skyon Archer
Sunday 22nd of July 2018 07:56:59 PM UTC
I'm so excited to present you this page!
---

Search Sites

Our Links

Tierra Hosting Statistics
Ad Views: 175,951
Unique Viewers: 23,295
Ad Clicks: 484
Genre: Web Services

Contact Tierra Hosting